Shows
»Wow. Let me say that again: Wow!
Totally mind-blowing and hugely
entertaining.« — Magic Magazine
A performance by Pit Hartling is the perfect highlight for any gala event. For one hour, the laws of nature seem to be suspended: Money increases, solid objects dissolve into nothing, a table suddenly floats in mid air, borrowed wedding bands link together, and almost in passing Pit Hartling actually reads your mind.
Whether on stage or in parlour, Pit Hartling's shows combine intelligent comedy and incredible conjuring. In addition to select classics of magic the repertoire also contains personal creations that are unique in the world.
Pit Hartling's methods are incredible sleight of hand, quick wit and applied psychology. And in case this is any consolation: Some of his pieces are a complete mystery even for his fellow magicians.
From a quick spot to a full-evening show, from small private performance to a big corporate event, the program will be custom-made for your occasion. For gala events we recommend an interactive show of forty-five to sixty minutes. All performances are suitable for international audiences and are possible in German, English and Spanish.

»So unterhaltsam haben Sie Zauberkunst auf höchstem Niveau noch nie gesehen!«
— Frankfurter Rundschau
»Fassungsloses Staunen«
— Fränkische Landeszeitung
»So geistreich und witzig, dass sich die TV-Comedians vor ihm ehrfurchtsvoll in den Staub werfen müssten «
— Süddeutsche Zeitung
»Selbst Kennern bleiben Augen und Münder offen!«
— Fachzeitschrift »MAGIE«
»Ein großer Meister der Illusionskunst«
— Badische Zeitung
»Ein Abend voll geistreichem Witz und perfekter Zauberkunst, unfassbar, aufgeweckt, lustig und ungemein unterhaltsam.«
— Mannheimer Morgen
»Wer Hartling zuschaut, gerät allmählich in Atemnot. Vor Lachen und vor Staunen.«
— Die Zeit
»Wie zur Hölle macht er das?«
— Frankfurter Neue Presse
For smaller groups Pit Hartling presents the MAGIC CIRCLE: In this extraordinary show-format up to fifty guests experience select pieces of magic from up close. Casually gathered around a table, spectators become participants and within seconds the whole group is abuzz with incredulous laughter and amazement.
The situation creates a unique dynamic – Pit Hartling's conjuring and energy transforms the MAGIC CIRCLE into a veritable magical happening. Next to his stage shows, the MAGIC CIRCLE is the most intense way to witness Pit Hartling's conjuring. The MAGIC CIRCLE is the perfect group-experience and will be truly unforgettable!

You want to feature a product or service in an intelligent and memorable way?
Your event is to convey a certain message?
You are looking for a catchy idea to spice-up your tradeshow appearance?
Pit Hartling will help you develop the perfect »magical« solution.
Energiebranche
Pit Hartling moderiert auf der Fachmesse E-World in Essen und verblüfft die Messebesucher mit speziell entwickelten Kunststücken zum Thema Energie. Neugier wird geweckt, Gespräche kommen in Gang, der Kunde knüpft zusätzliche Kontakte.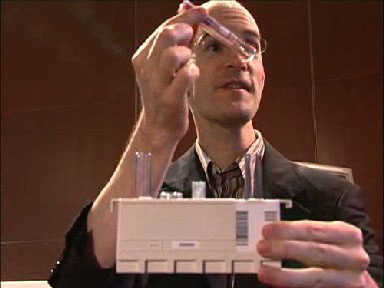 Pharmaindustrie
In Athen demonstriert Pit Hartling einem internationalen Fachpublikum von Ärzten und Medizintechnikern das »wundersame« neue Blutanalyse-Verfahren von Abbott Diagnostics.
Automobilindustrie
Für eine Autopräsentation lässt Pit Hartling ein Modellauto in einem Feuerblitz verschwinden, bevor das neue Schmuckstück seinen großen Auftritt auf der Bühne hat.
Software & IT
Zusammen mit IBM entwickelt Pit eine Onlinekampagne zum Thema IT Sicherheit. Die wichtigsten Produktlösungen werden "magisch" illustriert.
Sport
Pit gestaltet ein Galaprogramm für Spieler, Trainer und Gäste des VfL Wolfsburg.
Finanzdienstleistung
Auf dem European Banking and Insurance Forum (EBIF) präsentiert Pit Hartling für IBM Financial Services ein »magisches« Verfahren zur Analyse von Aktienkursen. Die Vorführungen begeistern und sorgen für Besucherrekorde am Stand.
Science and IT
Pit is booked by IBM at the world's largest IT trade show CeBit. He teaches an old terminal how to read minds, and everybody wants to have a go. The project becomes one of the most visited and talked-about attractions of the whole tradeshow that year.
Transport & Logistik
The motto of the strategy meeting of DB Netze in Kassel is »The Common Thread«. Pit Hartling magically illustrates this by tearing and restoring a piece of thread on the big screens in super HD and gives an entertaining outlook on the topics for the rest of the day.
Online-Magic
Die interaktive Liveshow auf Ihrem Bildschirm
Der Vize-Weltmeister der Zauberkunst bringt die Magie in Ihr Zuhause: In seinem neuartigen Format versetzt Pit Hartling Ihre Kunden oder Mitarbeiter über den Bildschirm in Erstaunen! Ob als Highlight Ihrer virtuellen Betriebsfeier, als außergewöhnliches Erlebnis für Ihre Geburtstagsgäste oder einfach ein gemeinsames Erlebnis mit Ihren Freunden – Pit Hartlings Online-Magic Show macht Spaß und verbindet!
Erleben Sie Pit Hartling live und interaktiv in Ihrem
Wohnzimmer. Dazu erhalten Sie Ihr persönliches Requisiten-Set,
das während der Show nach und nach zum Einsatz kommt:
In einer Séance bei echtem Kerzenschein empfangen wir geheimnisvolle Botschaften berühmter Persönlichkeiten der Weltgeschichte, wir nutzen die Schwarmintelligenz der Gruppe zum Bewältigen eines unlösbaren Problems, plötzlich geschieht Unfassbares in Ihren eigenen Händen, und alle zaubern selbst (ohne zu wissen, wie sie das gemacht haben). Ein Gegenstand bewegt sich magisch über kilometerweite Entfernung, in manchen Momenten können Sie den Ablauf der Show mitbestimmen – und Sie erfahren, was Ihr Gefrierfach mit all dem zu tun hat!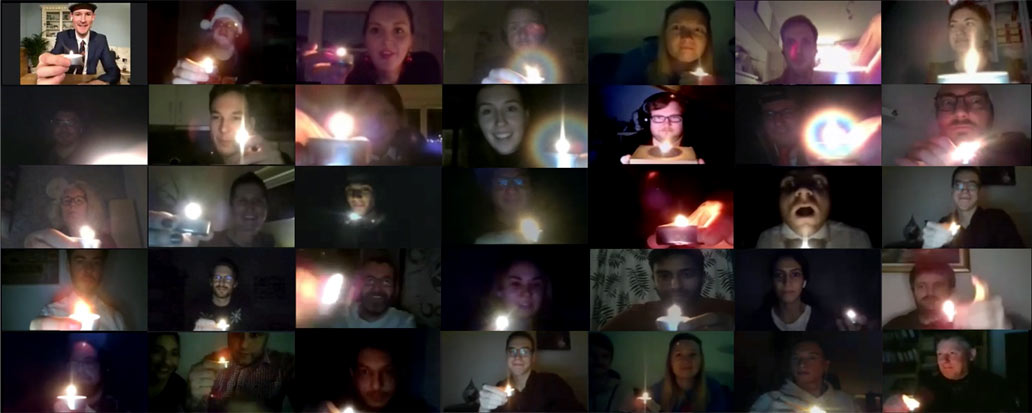 Pit Hartlings Online-Magic ist das perfekte Gruppenerlebnis. Eine erstaunliche und unterhaltsame Show bei der jeder in der ersten Reihe sitzt. (Und endlich muss garantiert niemand auf die Bühne!)
Showdauer: ca. 1h
Teilnehmerzahl: 10 – 500
Technische Voraussetzungen: Laptop oder Mac/PC
Kunden (Auswahl):
Citibank, PricewaterhouseCoopers, Langtec, Esatus,
Accenture, …