Pit Hartling — works wonders!
»Champions League
of Magic« — F.A.Z.
Pit Hartling looks quite innocent but that is actually his first trick. Pit Hartling is one of Germany's most requested entertainers. His appearances have brought him to more than fifty countries on five continents where he amazed thousands of guests at business events and …
Clients
Für die Europäische Zentralbank verwandelte Pit Hartling Papier zu Geld, im Spanischen TV verblüffte er ein Millionenpublikum in der Landessprache, er versetzte Franz Beckenbauer in helles Erstaunen, und im Sun City Casino Südafrika sprengte er völlig legal die Bank.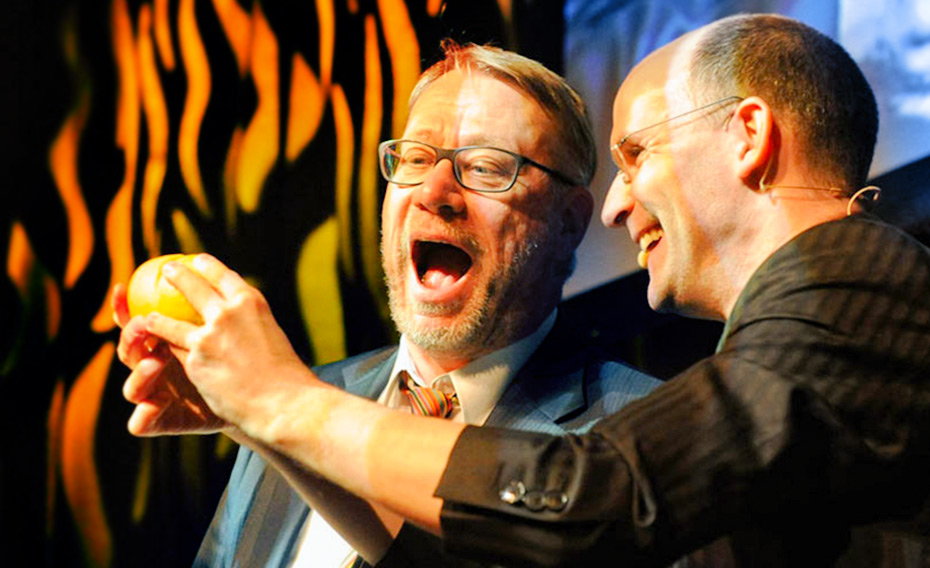 Shows
Pit Hartlings Shows kommen ohne Bühnennebel und aufwändige Requisiten aus: Ein Weinglas, ein Geldschein, einige Bücher – viel mehr benötigt "Deutschlands dünnster Magier" nicht, um einen ganzen Saal um den Finger zu wickeln und erwachsene Menschen für einen Moment in staunende Kinder zu verwandeln.
»Too good to be true! Four Stars!«
— Stevens Magic
»Bravo, Mr. Hartling, Bravo!«
— The Vincentian
»Absolutely
stunning!«
— Magic Magazine

»Funny, engaging, wonderful on every level«
— Magicseen
10.

December

2023

Firmengala

Bühnenshow

Bensheim, Deutschland

14.

December

2023

Firmengala

Close-Up Zauberkunst

München, Deutschland

17.

December

2023

Jazz im Museum

Kurzauftritt

Historisches Museum, Frankfurt, Deutschland

Info online
Newsletter
Yes, I would like to be informed about news and events around 2-3 times a year.
Of course, you can unsubscribe again, at any time. Please see our privacy policy.